Biography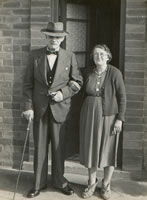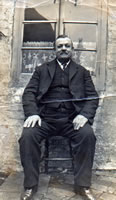 When John's mother and father met, music, Methodism and Alcohol merged.
The granddaughter of John Sharkey, the landlord of the Black Horse at Sodom (Upper Ettingshall) in the Black Country, met the son of the Choirmaster of Sodom Chapel (Arthur Richards) who unlike many Methodists of the time felt than an hour in the pub before choir practice was essential.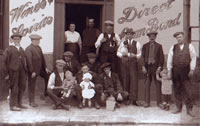 Both families were very musical and as well as the Choirmaster liking a pint, the pub landlord was a violinist and also liked a pint. By the time John was born there was a collection of choirmasters, singers and musicians across the two families.
John's mother was a lead soprano and his father a member of the bass section and stand in chapel organist.
After some years of under achievement on piano, John's practice of wandering around the house strumming his mother's violin final persuaded his parents to buy him his first guitar, an Eros six string acoustic.
A handful of lessons about chords made John realise that the years of playing piano with Uncle Harold had not been wasted and that, together with singing at chapel, it had given him a really strong musical foundation for the future. He quickly established that even just three chords could open the door to hundreds of songs. John had started to earn money, to repay personal loans he took for his living needs.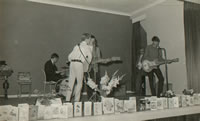 The guitar teacher was also teaching his two nephews, one lead and one bass, so he taught John rhythm guitar and John also took on the lead vocals. The acoustic guitar was replaced with a red and white Watkins Rapier 33 guitar and a Watkins amplifier, a drummer was recruited and the Echo 4 was born.
A few years of local youth clubs and working men's clubs followed with the band playing numbers by the Small Faces, The Who and other mod bands together with R'n'B standards.  Sadly O levels and A levels took over and with the added lure of a Lambretta TV 175 the music was shelved for a while.
After a couple of years John the mod sold his scooter, bought a Hoyer 12 string and grew his hair. John, now a keen John Peel fan became a regular at the Catacombs Club in Wolverhampton enjoying its progressive rock and Blues based acts. His interest in the Blues grew and he started to trace the music back to the original artists.
Robert Johnson, Mississippi John Hurt, Leadbelly, Son House, Reverend Gary Davies, Big Bill Broonzy, Sonny Terry and Brownie Mcghee and Muddy Waters all joined the Richards' record collection and it was the involvement of acoustic blues in the folk revival that led John into the folk clubs.
This opened doors into a wonderful world of new music, and LPs by Fairport Convention and the Incredible String Band saw the transition into folk music.
At College John was asked to run the folk club and he met and teamed up with a fine acoustic blues guitarist and blues harp player, Trevor Bould. They played as the residents at the college folk club until they both left and moved onto new projects.
Being involved in the college folk club had really broadened John's musical experience and he had heard and fallen in love with music by Planxty, Dransfield, Steeleye, and Fairport.
John left college in 1972 and a short time later replied to an advert in a local newspaper for a singer / songwriter /guitarist and it led to John's first recordings. Kinver based Bev Pegg had placed the advert and he and John collaborated to record an LP of their individual songs but with one jointly written, 'Did you like the Battle Sir?' which became the first of John's songs to be covered.
Robin Dransfield started singing it first, then Paul Downes, Phil Beer and Steve Knightly heard Robin sing it and Downes and Beer started to include it in their sets.
During the recording sessions with Bev Pegg, John met the excellent Mandolin player Mike Tinsley and the two of them became great friends and started to work as a duo and, together with their wives, opened a folk club at the Saracens Head in Dudley, as well as also playing at the other local clubs.
John wanted a bigger sound and had listened with excitement to developments within folk rock and this led to the duo joining Kidderminster band Greenmantle who wanted to expand and move into electric folk rock. Unfortunately, the experiment did not work but from it emerged a light folk rock band called Springheel Jack which featured in its sets a combination of Traditional songs and John's compositions.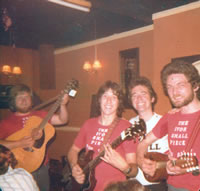 The next development saw the formation of a 'good time' entertainment band called the Ivor Smallpiece Big Band which enjoyed as number of successful years in the West Midlands and recorded an EP at Zella records in Birmingham which included 'Did you Like the Battle Sir?'
When Smallpiece split, half the musicians joined John in a new band called Maurice and the Minors. Once the line-up had settled, was played in and gigging, they booked recording sessions at Dave Pegg's Woodworm Studios to record their first cassette 'One Lady Owner'. The only Richards' song on the cassette was Honour & Praise but Dave heard it, loved it and it soon appeared on Fairport's 1985 Gladys' Leap LP and remains in Fairport's repertoire to this day.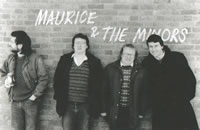 'Maurice' continued to mature and after a further cassette 'Bodywork needs attention' the bands LP 'Run by the Moon' was released. This was a definitive work and the first produced by engineer Mick Dolan, who was the resident engineer at Dick Cadbury's Millstream Studios, as well as engineer for Stevie Winwood and Jim Capaldi and later on he was to work on Mick Jagger's solo LP.
'Run by the Moon' contained five new songs by John that went on to be covered by Simon Nicol, Fairport in several line ups, Paul Downes, Damien Barber, Bill Caddick, Johnny Collins, Michael Black and a long list of other artists.
Unfortunately, good things do come to an end, and, despite some fine reviews for 'Run by the Moon', the band split and from the split emerged a new line up called 'Three Desperate Men'.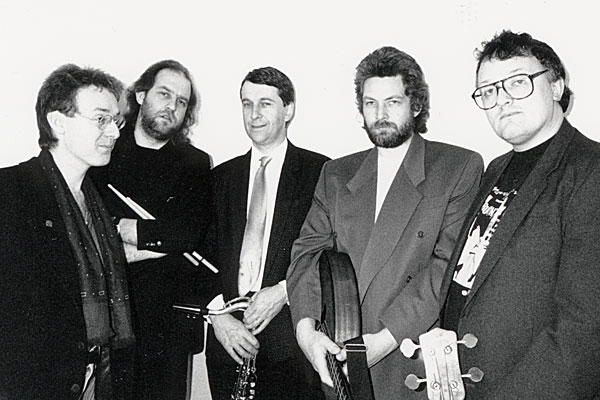 John was writing more and more and the 'Three' decided they wanted to beef up the sound. In 1991 John met the excellent Wolverhampton drummer David Jones and he joined and also introduced Paul Dowswell , who joined the band on lead guitar.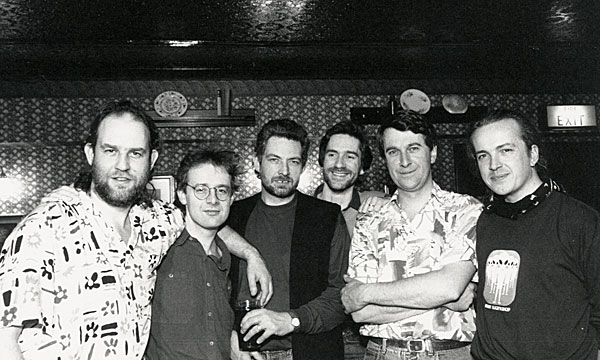 The first few years of 'Desperation' were definitely that of a folk rock band with Chris Drinan's spine tingling flute leading tunes and instrumentation for the folk input and Paul Dowswell's melancholy to 'rocked out' lead guitar adding the rock attack. The new line up recorded cassettes and a CD called Third Light with John writing most of the songs as well as some in collaboration with Paul Dowswell and, occasionally the rest of the band, on others.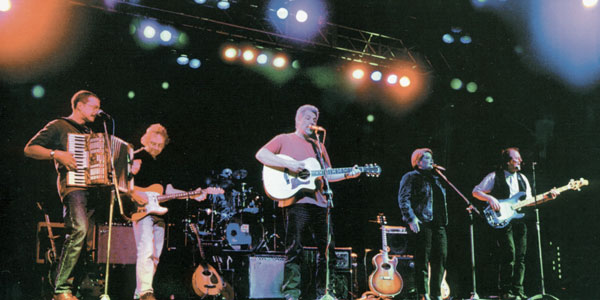 When Chris Drinan left the band had already moved more to the roots rock end of the folk roots spectrum and Chris's place was filled by Steve Watton on 'attacking' R & B accordion. This largely moved the band out of the folk world and into pub rock and roots rock venues. The band recorded the 'New Tricks' CD in 2000 and 2001 which again contained a number of John's songs alongside songs by Ron Kavanagh, Clive Gregson, Richard Thompson, Iris Dement and Billy Bragg.
Also in 2001, John decided that, as the band had moved a little away from his previous roots, he would record a solo CD that would feature the best known of his 'folk songs'. The CD was again produced by Mick Dolan, It was called 'Behind the Lines' and John decided to invite long time collaborators Jim Sutton and Chris Drinan, daughter Emma and accordionist Bev Ball to play on the album as well as asking Paul Downes and Phil Beer to appear on tracks they had previously covered.
The CD received a string of excellent reviews and earned John the accolades of "A master of his craft" Taplas and "One of our most interesting song smiths" (Folk on Tap).
Following the critical success of 'Behind the Lines' and David Jones' decision to relocate to the South West of Ireland, which led to the retirement of Desperate Men, John decided to concentrate his energies on the newly assembled John Richards Band.
 The first, but short lived, line-up included John, daughter Emma with new members Mat Taylor on double bass and sax and Emily Sanders on fiddle and vocals. Emily left to work on her own band and was replaced by Allie Fellows on piano accordion and keyboards.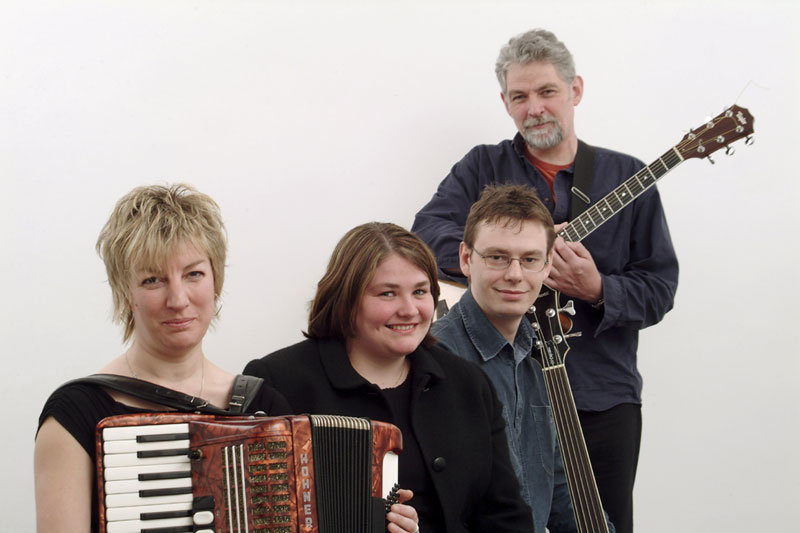 This line up recorded the 4 track CD 'If you can walk you can dance' with Mick Dolan in 2004. Mat Taylor left and John decided to team up again with old friends Jim Sutton and Chris Drinan, who having been members of Maurice and the Minors and the original Desperate Men line up were entirely familiar with John's work and who are extremely talented in respect of both performance and working on arrangements.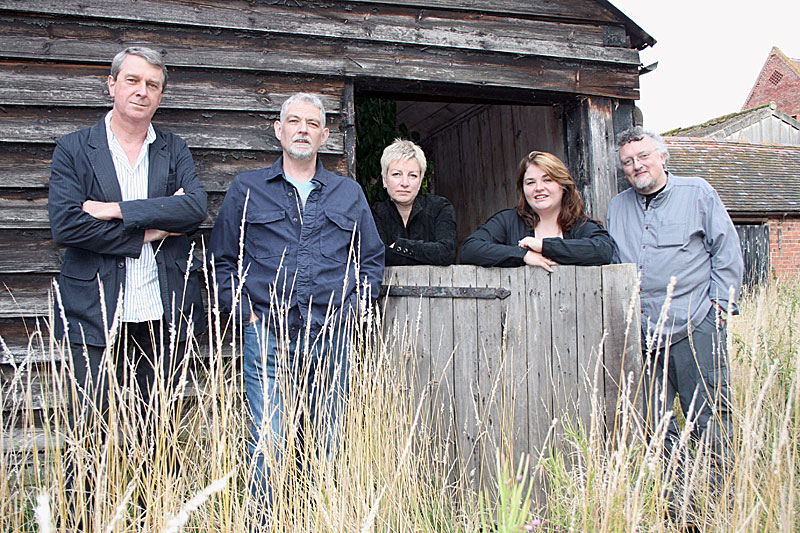 Back to a five piece again the band recorded three CDs with this latest line-up. The first was 'Walls of Hope' in 2006, then a four track sampler in 2007, followed by 'For Love nor Money' in 2008. All were engineered and produced by Mick Dolan with John Acock also helping out on 'For Love nor Money' because of Mick's ill health.
More of John's songs from these CD's were covered by other artists with 'The Smugglers Song', 'If you can walk you can Dance' and 'The Foundryman's Daughter' being adopted by other artists.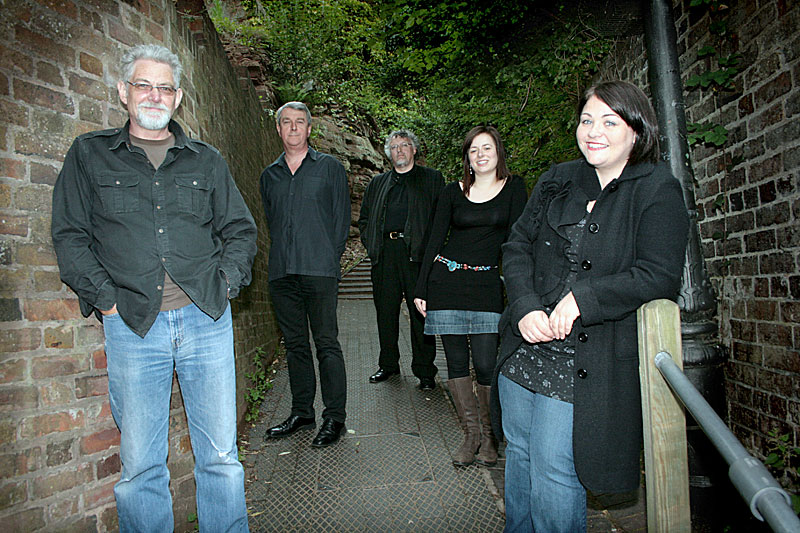 Allie left the band for pastures new and Julia Disney joined in February 2010 playing fiddle, keyboard and vocals. Wanting to do some post graduate education Julia left in 2011 and the band were this time lucky enough to find another very talented young musician, Robin Tudor in late 2011 who also played fiddle and keyboards.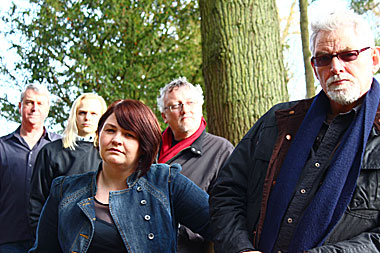 John had written a number of new songs and in 2012 the band decided to work on a new CD which was called 'The Lifeboat'. Both Robin and Julia were involved in the recordings for this CD, which was once again engineered and produced by Mick Dolan. The band launched the new CD in January 2013.
Very sadly both Mick Dolan and John Acock died in 2014 and recording for John will obviously never be the same again!
Increasingly, the economic climate and its effect on clubs and small venues has made it very difficult to maintain the motivation and impetus of a five piece part time band over recent times and the band unanimously agreed it was time to call it a day in 2014.
John continues to write and hope that artists (particularly some young ones) will continue to cover his songs while he also plays the occasional gig for old friends, either solo or with one or two members of the band. He is enjoying himself thoroughly!