Home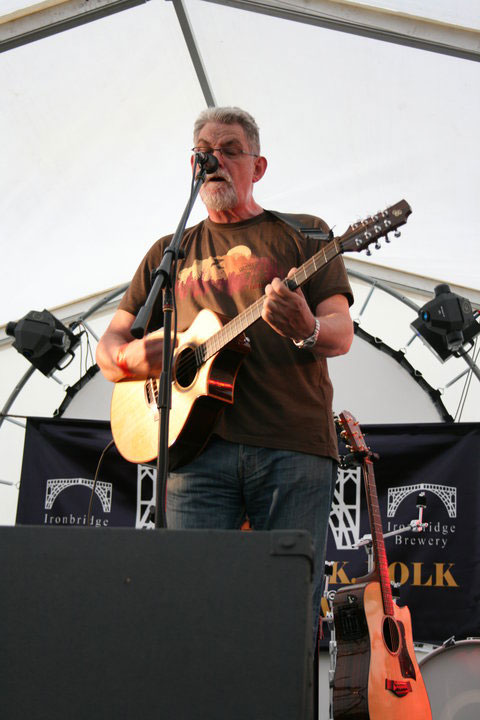 John Richards began writing and performing in his early teens. Over the years he has quietly become one of the most covered writers on the UK folk scene and has been a well respected muscian and songwriter from those early days.
Songs such as Did you like the Battle Sir? (written with Bev Pegg), Honour & Praise, The Deserter, Shine On, Roaring Water Bay (written with Dave Jones), The Unknown Soldier, The Moth, Foundryman's Daughter, The Smuggler's Song (written with Rudyard Kipling ☺), and If You Can Walk You Can Dance have been covered by some of UK Folk music's finest professional artists as well as a long line of local singers.
John has fronted a number of bands over the years, Springheel Jack, The Ivor Smallpiece Big Band, Maurice and the Minors, Desperate Men, and the John Richards Band (in various line ups). In the early days the repertoire was mostly traditional and covers but gradually the balance changed and became predominately John's own songs.
However, by 2014 and after several changes of lineup John decided it was time to call it a day with The JRB's and focus on his song writing. He will continue to do the occasional gig for old friends either on his own or with one or two members of the band and he is enjoying himself greatly!
On this site you can listen to samples from the back catalogue of John's songs; read about his Black Country roots and where his love of music came from; you can read reviews of his various bands and his and other artists' versions of his songs; buy CDs and also downloads; and email John to discuss his work and ask any questions that you may have.
HOWEVER – THINGS CAN CHANGE
I thought I'd finished recording in 2014 after the greatly missed Mick Dolan died. Mick had produced nearly all of our recordings – Maurice and the Minors, Desperate Men, The John Richards Band and John Richards solo – since the 1980s. His passing also coincided with me 'losing the will' and so I thought that, sadly, it was the end of my musical journey.
But thankfully I was wrong. Malc Gurnham and Gill Gilsennan who run the Bedworth Folk Club asked me to play a solo gig for them. I was so nervous but the audience was wonderful, singing on so many of my songs that it lifted me – my mojo was back!
Even so, I hadn't really thought about recording again until one our closest friends, John Hendley, who worked with me in Maurice and the Minors and as a duo, unexpectedly died on New Year's Day 2018. Ria and I were deeply shocked by his passing and, in time, I also realised that I had a briefcase full of part written songs that would never have seen the light of day had it been me.
One of my greatest pleasures as a songwriter has been when other people sing my songs, whether it is audiences joining in or other artists covering them. I realised that I'd like to leave as many songs as possible in the hope that people will sing them both now and long after I'm gone. So I needed to complete the part written songs, rearrange some songs that needed to be changed, and then record them all.
The only CD that Mick Dolan hadn't produced for me had been a Desperate Men CD – Third Light – which was produced and engineered by the remarkable Phil Beer at Dave Pegg's Woodworm Studios. So when I heard that Phil was creating a new recording facility in Devon I thought that was just too good an opportunity to miss. Having made that decision I then concluded that, as this was going to be my last CD, I'd ask some outstanding musician friends to join me on the project; 'Bring back the Spring' is the result. I really hope you enjoy it. I certainly enjoyed every minute of creating it.
Latest news 2021
I've said before that I have a burning ambition to add as many songs as I can to my collection in the hope that people will sing them both now and for many years after I'm gone.
That is one of the reasons that I was excited recently when I was approached by First Original Music, a boutique publishing house in rural East Yorkshire who's founder Phil Simpson has an enviable record in the live music agency business.
First original Music are building an outstanding, and ever expanding, catalogue of music and with their contacts and reputation they will be able to share my songs on a much wider basis than I have ever been able to.
They say:-
"With a focus on Acoustic, Roots, Folk and Americana music, we represent an ever expanding catalogue of music we believe is truly outstanding, and deserving of as much exposure and attention as possible."
"We believe reputation is everything. We are immensely proud of the writers we work with and want to be known for the incredible music we represent."
So, I am very excited by this latest development; and recent resurrections of Honour and Praise on the latest Fairport CD and Roaring Water Bay in the Show of Hands 'Dark side of the Frome' video have added to that excitement.
First Original Music has established a Spotify account for me and four of my CDs are now available on the various streaming services. We will be adding more CDs as things progress but physical CDs will remain available via this website and at live gigs.
I will be taking gigs again for the John Richards Band once the live music situation starts to ease and we should be playing at Bedworth Folk Club on 14 July 2021.
We also hope to be organising some gigs for Desperate Men when it is safe for everyone to party again and we are planning a number of different events to run as soon as we all get the definitive green light.
Stay safe and well!
Cheers
John